---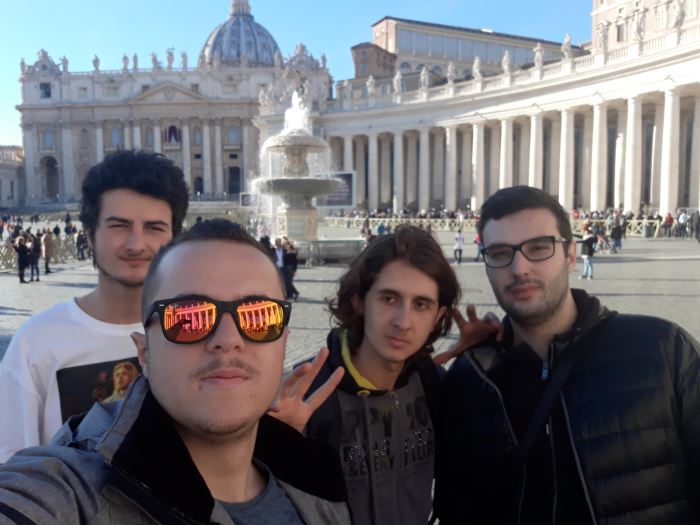 Kristijan Jordanov
Faculty of Philology
Rome
You have arrived at Stazione Termini, you see all these different people each in motion towards different destinations. Italians, Spaniards, Germans, Dutch, Czechs, French, Serbians, Irish and so on . . .You don't just see Europeans - Chinese, Americans, Brazilians, Moroccans, Egyptians, Japanese, Indians . . . So, where do you go? - You get out and you start walking.
You wanted to see the Flavian Amphitheatre, but you have been put off track, something caught your attention and now you are in front of an old building. Not aware how much time has passed, you start asking yourself: How long have you been walking for? - Was it 30 minutes?; Is this your first day here?; How long have you been in Rome?; Has a month passed already? People are walking in, you are following them. All these different languages of which you don't understand a phrase are being uttered around you. But it doesn't matter, you know what they all want to see . . .
It's Mosè sitting in front of you protecting the stone tablets and you have a weird urge to touch his beard. Did he just move? - No, it's only a marble statue. You are in "San Pietro in Vincoli", you wanted to visit the Tomb of Pope Julius II. Where next? Pons Fabricius perhaps? You are under the bridge, you can't stop taking pictures while you are still thinking on the question: Where next? Should I go to the Pantheon? - it's just a five minute walk from there. Or you can go and get something to eat - maybe you should try that Lampredotto thing that your colleague recommended to you but never told you what it's made of. That colleague you met at "Roma Tre" who studies Russian but somehow ended up with you in a class in English on Transatlantic Relations between the U.S. and Europe - you asked him for a coffee and then ended up visiting Florence with him.
Did you visit the Vatican? - there is a discount for students. Did you know that the current Pope owns a second hand Renault 4? But what about Roma Tre? How different was the system? Did you adjust easily? How were the Professors? Any luck with the exams? Was that Baldassare De Caro painting a memento mori? It's different, weird, new and you are in a state of ambivalence - feeling lost and worried, but also pleasant and excited.
Don't worry - the professors are always there for you to answer all the questions you may ask and guide you while you step out of your normal everyday experience and learn new thrilling things. It is said that you should experience this for at least once in your lifetime. I absolutely disagree.
The first thing I asked my friend on our way home was: Where next? Sashka Stefanovska was right about the post-erasmus-depression syndrome. Once is not enough, you will need to go again.